| | |
| --- | --- |
| | CONNECTIONS TO OTHER MUSIC BANDS |

Connections to other bands such as :
ALICE COOPER, RAMONES, DANZIG, MONSTER MAGNET, KISS, BLACK SABBATH , PRONG, BEATLES, KORN, CRAMPS, SLAYER, NINE INCH NAILS, KMFDM, IGGY POP
... BANDS WHO INFLUENCED WZ or RZ
Black Sabbath, The Ramones, Alice Cooper, KISS, The Cramps , The Necros, The Misfits, Van Halen, Led Zeppelin, Black Flag, Cheap Trick, AC/DC, Metallica, Public Enemy , Charles Manson , Bad Brains , Butthole surfers Bauhaus, Siouxie and the Banshees
... BANDS WHO TOURED W/ ROB ZOMBIE
SINISSTAR : Excellent band who was opening for Rob Zombie
... BANDS WHO TOURED W/ WHITE ZOMBIE (Or RZ)
Prong, Anthrax, Pantera, Skid Row, Danzig, Ramones, The Cramps, Filter, Eye hate God, Wicker Man, the Obsessed, Flip, Korn, Raging slab, Pussy Galore ( ... john spencer 1st band from NYC, any infos on this band ? ), System of a down (ozz fest) , Monster Magnet (1998), Fear Factory (1998), My Sister's Machine, Nudeswirl, Babes in Toyland, Rev, Horton Heat, the Supersuckers Testament, Toadies, Filter, Supersuckers, Reverend Horton Heat, Live Skull, Honeymoon Killers, Chemlab, Nudeswirl, Deftones Soundgarden, Mahogany Chaos, Sponge, Pennywise, Blind Melon,

OZZFEST '99 BLACK SABBATH / ROB ZOMBIE / DEFTONES / SLAYER / GODSMACK / SYSTEM OF A DOWN / FLASHPOINT / FEAR FACTORY / DRAIN S.T.H. / APARTMENT 26 / STATIC-X / PUYA

Just an Idea : Will GWAR tour with WZ Anytime ??? :-)
... BANDS WHO WERE COVERED BY ZOMBIE
Alice cooper : Elected, school's out, feed my frenkenstein
Beatles : Helter Skelter
Black Sabbath : Children of the grave
KC and the Sunshine band : I am your boogey man
Danzig : Twist of Cain
Ramones : Blitzkrieg bop
... BANDS WHO COVERED ZOMBIE SONGS
... SIMILARS BANDS
Bands that sound close to WZ : Static X ( http://www.amazon.com/exec/obidos/ASIN/B00005J79E/rzr
) , Godsmack, Soil, Die Krupps, Ministry
... OTHERS
Beasty boys, Mothorhead
RAMONES
Joey ramone was an influence and a friend of RZ (he is credited on Hellbilly but what for ?).
Joey died this 2001 easter week end [on April 15], RIP...
Rob is producer of the Ramones Tribute

POWERMAN 5000
Rob Zombie's little brother has a band that's stirring up interest... they are called POWERMAN 5000...they are from Boston and have one EP and one Full Length album out (True Force and The Blood Splat Rating System repectively).


Now, I'm just speculating here but its too coincidental at the same time:
The lead singer (and brother of Rob Zombie) of POWERMAN 5000's nickname is Spider (real name mike cumming), which has showed up in White Zombie's song "Spiderbaby (Yeah-Yeah-Yeah)"--"yeah I knew I hit the edge when I saw the SPIDER - a jukebox paranoid insider..."
Also the band name Powerman 5000 seems to referred to in the White Zombie song "Starface"---"...at the moonlight superfly - a penetrating POWERMAN 'oh baby' I'm painted in the sky..."

PM5K's Guitar player is John Tempesta's brother
powerman 5000 was making a new album called anyone for doomsday but dorian heartsong and the drummer left the band. so spider stopped the album from ever coming out and found replacements. now they have an even better drummer his name is AD7 and an equally as good bass play, they call him Siggy, they are currently working on a new album with all new songs from doomsday but dont expect it to kick much ass because spider wants to be more melodic on this album
Rob Zombie sing along spider on song "the world colapses" and directed Tokyo Vigilente Video (anyone has that one) ?
Powerman 5000 will release their new album Transform on May 20th !! Check the samples and Team : http://www.hyfntrak.com/powerman5000/totalassault

http://www.totalassault.com/?teampage=30

DANZIG
Rob and Glen seems to be friends since WZ were opening for Danzig More here
BLACK SABBATH & OZZY
Detail here
PANTERA
SIX-STRING MASTERPIECES:THE DIMEBAG DARRELL ART TRIBUTE is: A collection of 50 guitars, HAND-PAINTED by world-famous Rock Stars and internationally known Modern Artists. Rz Designed a Tribute Guitar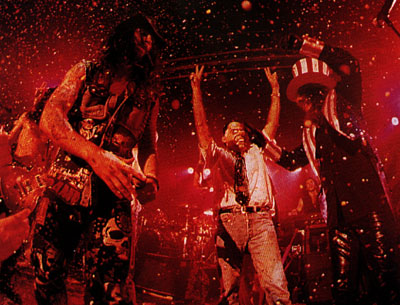 ALICE COOPER
Rob played a duo with him on the lame compilation "Songs in the key of X".


And once Alice joined White Zombie on stage with his bloody white top hat, coat and cane to sing School's Out.

In addition, Rob just participated in recording a live album of Alice's 70's material with Alice (Rob is featured on two tracks, "Elected" and "Feed My Frankenstein") and a bunch of other celebrities including Sammy Hagar, Joe Satriani, Slash, Steve Vai.
More on alice copper here
KISS
White Zombie covered god of thunder in their early release, and they wanted to have that song on a KISS tribute, but they were refused (I supose it was kiss my ass)

Around 1989, WZ covered live song "War Machine".
SLAYER
On RZ 2d solo album TSU, Kerry king is his special guest
BEATLES
John Lennon Tribute They might have worked on it with Charlie Clauser (any infos ?)
(btw they already covered "Helter skelter" live recorded on resurection days)
CHARLES MANSON
Real Solution #9 refers to charlie and J. lennon. "Revolution 9" may refers to Chapitre 9 of St Jean Apocalypse.

"The Beatles White Album" has other, more sinister associations: it is claimed that the Beatles' songs "Helter Skelter" and "Little Piggies" inspired Charles Manson to murder Sharon Tate and others in 1969. Roman Polanski, Sharon Tate's husband, had used the Dakota apartments as a setting for his film "Rosemary's Baby", about a woman giving birth to the Devil's child.
KMFDM
KMFDM is a german industrial/dance band and they Remixed Black sunshine and TK65

Here is a mini-interview :
RzR: how comes u made this mix especialy for this band ?
Sascha: i was hired to do a remix
RzR: what do u think of their music ( that time, and after) ?
Sascha: never heard anything else of theirs...
RzR: what kind of connection u have w/ pple of wZ ?
Sascha: none
RzR: Ever met them , any funny , additional stuff to add ?
Sascha: nope
More infos at : http://www.kmfdm.net/
GODSMACK
I am looking for additional information on Godsmack which sounds close to WZ...
What kind of connection have they w/ Zombie ?
Does they quote WZ / RZ has a major influence ?
I only know that they used to cover WZ Thunder Kiss '65 (when, where, is this recorded ? beside in Sacramento, CA - ozz fest ?)
Also Pantera's Walk as well
What is the best godsmack fan site ? http://www.amazon.com/exec/obidos/ASIN/B000050HRZ/rzr/


Preorder New Godsmack ALBUM April 8, 2003 http://www.amazon.com/exec/obidos/tg/detail/-/B00008J2DQ/rzr/#


Also If you want to join godsmack street team please register at http://rzr.online.fr/rd/id/119

Or answser the Street teams poll in the group at http://groups.yahoo.com/group/zombieland2/


PANTERA
Pantera toured w/ WZ on the astrocreep tour.
The 'Astro-creep2000' and 'The Great Southern Trendkill' have the same producers (and mixers) - Terry Date & Ulrich Wild. and the similar song names 'Electric Head Pt.1' - 'Electric Head Pt.2' and 'Suicide Note Pt.1' - 'Suicide Note Pt.2'... Simply coincidence or what?

Dimebag Darell covering live TK'65 (fragment) you can download it at : http://launch.groups.yahoo.com/group/zombieland2/files
MARILYN MANSON
Manson recorded a song for the Ramones tribute : The KKK took my babe
Anything else to add ? RzR http://deadstar.fr.st/
IGGY POP
He is thanked into MTDS, also he is the voice of the intro of black sunshine (he is also acting in BS video), I suppose he is doing some background spoken words of the La Sexorsisto Album

Another connection is the movie the crow 2 : Iggy was actor in this movie while WZ realised a song on the The crow 2 soundtrack

http://www.iggypop.org/
http://www.rawiguana.com/

KORN
I met the korn pple who have toured w/ WZ, they said they partied w/ WZ pple except Rob, because he were staying alone in his bus.

Anyway Rob joined korn on stage doing chorus for "Earache My Eye" (any infos on this ?)
MINISTRY
Industrial Rock Pioneers Ministry serving as an influence to a wellspring of budding artists, from Nine Inch Nails and White Zombie to Fear Factory and Orgy.

From what I've heard Al and Rob don't like each other much. Al thinks that Zombie stole his image.
but Rob replyed that if you look at pictures of him from a long time ago he alway's looked like that and he said Al probably didn't...
Anyway Both music rocks, u should enjoy them

Ministry Signs To Sanctuary Records; Live Debut CD Sphinctour Slated For March 19th, 2002 Release.
DVD/VHS To Be Released on April 9th 2002
and more recently a full lenght studio album : "ANIMOSITISOMINA"- in stores now!

More details on Ministry will come here Ministry

Also if you want to join the Ministry stream team (and win prizes) just contact me or fill the survey at http://groups.yahoo.com/group/zombieland2/surveys?id=11076442
NINE INCH NAILS
Charlie Clouser is main WZ remixer, synth player. he used to work with NIN (remixes too) ?
Also in RZ solo project The Sinister Urge : Danny Lohner http://www.dannylohner.nitemysite.com/


Former Nine Inch Nails member Chris Vrenna has remixed Rob Zombie's 'Demon Speeding' for the NASCAR-sponsored compilation
This collaboration marks the second remix Vrenna has done for Zombie, following his work on ROB's 'Phantom Stranger' for American Made Music To Strip By.
PRONG
Prong formed in June of 1986 All members of Prong had a collaborative background in the New York underground music scene. Ted Parsons was a former member of The Swans. Tommy Victor performed with various members of Live Skull, The Swans, and the Misfits in different incarnations. There was later a subsequent swapping of bass players, when Troy moved over to Killing Joke, and in return Paul Raven left Killing Joke and took over bass duties at Prong. The present bass player Rob Nicholson (Blasko) has gained success with the band Drown.
Charlie Clouser (NIN, WZ keyboard programmer) is on latest PRONG : _Rude awakening_ (96-Epic) as keyboard programer too.
And they toured a video under Rob Zombie Direction (Rude Awakening).
NIRVANA
In Kurt Cobain's Journal book @
http://www.amazon.com/exec/obidos/ASIN/1573222321/rzr
it is written something like "... White Zombie lyrics reveal how poor the english language is..."
Any Comments ? Hehe... com'on com'on the muthafucker is on fire com'on com'on yeah yeah yeah boom boom yeah

Funny "coincidence" is that La sexorsisto and Nevermind have the same producer and label : Andy Wallace / geffen
What other link to nirvana can we make ?

If you a Nirvana fan, you'd better have a look at http://www.JusticeForKurt.com/


I don"t believe that quote was against WZ, just a statement on punkrock lyrics.
BTW Kurt Cobain told SPIN Magazine that he was VERY fond of "Psycho-Head Blowout". It was one of his favorite EP's.
DUST BROTHERS
The Dust Brothers were among the preeminent producers of the 1990s, helming records for everyone from Beck to Hanson while influencing countless others with their signature cut-and-paste marriage of hip-hop and rock. Not to be confused with the British production duo the Chemical Brothers, who began their career under the same name before receiving a cease-and-desist order, the Los Angeles-based Dust Brothers were Mike Simpson and John King, who met in 1983 while working at the Pomona College radio station. They originally teamed to DJ at parties, and by the end of the decade scored a production deal with the Delicious Vinyl label. In 1989, they scored chart success producing debuts from rappers Tone-Loc (the monster hit "Wild Thing") and Young M.C., but their most distinctive early work was on the Beastie Boys' groundbreaking Paul's Boutique, widely acclaimed among the most innovative and influential albums of the period for its pioneering use of digital sampling. In the years to follow, the Dust Brothers emerged among the most sought-after remixers and producers in the industry, working on projects for everyone from White Zombie (remixes) to Technotronic to Shonen Knife; they also founded their own label, Nickel Bag (later changed to Ideal), and in 1996 helmed Beck's extraordinary Odelay. Branching out even further, in 1997 they produced Hanson's chart-topping "MMMBop," as well as a handful of tracks from the Rolling Stones' Bridges to Babylon LP. Their first full-length solo record was the score for the 1999 film Fight Club.
MONSTER MAGNET
While they played a few dates together in the UK, this was supposed to be a bigger tour w/ both bands co-headlining (MM playing first set in UK, RZ playing first set in rest of Europe). Supposedly RZ didn't want to have to play first (dunno if it was ego, or what something related to his stage). Also, MM opened for WZ in the USA back in '93. Sometime after that, Sean Yseult and Dave Wyndorf hooked up for a while. More here on MM
RAZED IN BLACK
The only place to find it is on a compilation Signal to Noise: Reinforced Industrial Hits (August 21, 2001 @ Cleopatra) IN covers Aphex Twin w/Vicci Neptune & White Zombie w/EHC check it at http://www.amazon.com/exec/obidos/ASIN/B00005NQJI/rzr
or http://www.cdnow.com/pagename=/RP/CDN/FIND/album.html/itemid=1411371/from=sr-186972-1
anyone has listened to that song ? I need some more info on this for my zombie website http://rzr.online.fr/zombie.htm

More Human Than Human - Razed in BlackMusic
BorderlineMusic
DownloadMusic
Fade to Black - Apoptygma BerzerkMusic
Head Like a HoleMusic
Light [Music Macht Mix]
Just One Fix
Stripped - In Strict Confidence
Dig It
Beautiful People - Pitbull Daycare
Come to Daddy - Razed in Black
Closer - Rosetta Stone
Butterfly Wings
Carnival Is Over
http://directory.google.com/Top/Arts/Music/Styles/Rock/Gothic/Bands_and_Artists/R/?il=1
http://groups.yahoo.com/group/razedinblackclub/
http://artists.mp3s.com/artist_song/1306/1306760.html
HELMET
From blabbermouth.com HELMET Reunion A No-Go: Spokesperson - Aug. 25, 2003 Contrary to published reports, HELMET have no plans at present to reunite for a tour in conjunction with a retrospective of the group's three studio albums for Interscope, due on November 4 through Universal Records. A management spokesperson for HELMET frontman Page Hamilton told Billboard.com that he was unsure how the rumor began, but confirmed that Hamilton is working on a new project with late-period HELMET guitarist Chris Traynor, among others. The two musicians recently played together on tracks intended for BUSH frontman Gavin Rossdale's solo debut. According to the spokesperson, Hamilton is no longer pursuing his band GANDHI, which featured former WHITE ZOMBIE drummer John Tempesta and ROB ZOMBIE bassist Rob Nicholson. Hamilton is currently unsigned, a fact that he found mildly irritating in light of the band's widespread influence among today's up-and-coming rock acts. "They're more reluctant to sign someone who's 40 years old and known for this certain thing," Hamilton told Billboard.com in January. "'We think you're the greatest. We respect you so much, but how do we market this?' you go see a band and they're playing a riff I wrote 10 years ago and they have a wallet chain and a load in their pants and they'll get signed."
MEGADETH
I dont think there are so much connections , beside that both were on : Nativity in black and Beavis and butthead, both covered Alice cooper songs too

Also Megatdeth was remixed :
Holy Wars-General Schwarzkopf Mix by Sascha and KMFDM Enterprises,
the Symphony of Destruction-Gristle Mix by Trent Reznor.
Here is their discography :
Rude Awakening : 2002
The World Needs A Hero 2001
Capitol Punishment: The Megadeth Years 2000
Risk 1999
Cryptic Writings 1997
Hidden Treasures 1995
Youthanasia 1994
Countdown To Extinction 1992
Rust In Peace 1990
So Far So Good...So What 1988
Peace Sells But Who's Buying 1986
Killing Is My Business 1985
MISC
Other Zombie bands : Zombie Nation (dancefloor)

zombie Songs:
Zombie Stomp by Ozzy osborne
? by canibal corpses
HOWARD STERN
He is the king of the media, and a close friend of RZ : But it online @ http://www.amazon.com/exec/obidos/ASIN/6305222908/rzr
http://www.amazon.com/exec/obidos/ASIN/0671009443/rzr
http://www.amazon.com/exec/obidos/ASIN/B000001RKY/rzr

METALLICA
I guess they're a major influence
What do know of the song Metallica can suck my dick ? I dont think its a rob zombie one (but some song that a poser put on a P2P system .. about the napster dilema)

Lyrics are : Metallica metallica used to be cool But them just a punching? fucking fools (that's right) Metallica metallica ??? - this part I really don't know Metallica metallica you punching fucking brats Metallica metallica now you can suck my dick!
Where can i find the more human than human cover performed at Donington, England Castle Donnington (8/26/95) :
Ecstacy of Gold Breadfan Master of Puppets / Wherever I May Roam The God That Failed Fade to Black 2x4 Kill / Ride Medley For Whom the Bell Tolls Devil's Dance Donington Medley Holier / Smoke on the Water / Slow and Easy / More Human Than Human / Welcome to the Jungle / Black Majic / Youth Gone Wild Creeping Death Sanitarium Harvester of Sorrow Remember Tomorrow The Unforgiven / Nothing Else Matters Sad But True One Last Caress Seek and Destroy / London Dungeon / The Outlaw Torn Enter Sandman So What!