HIDDEN TREASURE : RARE MUSIX

UNRELEASED STUDIO TRACKS (1986-1987)
Black Friday [3:06] (Gods on Voodoo Moon sessions)
Dead Or Alive [1:46] (Gods on Voodoo Moon sessions)

Rain Inside [3:11]
Paradise Fireball [3:15]
Follow Wild [5:16]
Red river flow [4:15] (incompleate)
Music wrote and played by Tim Jeffs on Guitar


BOOTLEGS?
Please contact me if you have any of these, We can trade copies
1988-??-?? : Soul Crusher tour '88 (I need it)
1989-??-?? : Live in Washington D.C. 1989 (I need it)
1990-01-19 : Willem 2, Den Bosch, Holland
1990-??-?? : Live in New York 1990 (I need it)
1990-??-?? : Live Radio Show 1990 (I need it)
1992-10-?? (Shitty CD import from germany) id#WZ92102 (I need it)
1993-??-?? Europe 1cd (I need it)
1993-??-?? You Only die once (I need it)
1993-??-?? : Live in Conneticut 1993 (I need it)
1993-??-?? Resurection Day
1995-06-24 : Demonic Possession @ USA/ Dayton, OHio 71:28 B+ quiet, some background hiss/static but not bad overall
1995-06-28 : Syntetic desilusion
1995-08-26 Kickin' in Heavens Door (New KTS) + 1995.08.19 + 1995.07.14
1995-08-26 @ uk/London
1995-10-31 Apocalypse Now @ Las Vegas, NV
1995-??-?? Black Plague @ San Jose, CA
1995-??-?? Thunder ... from Italy
1996-01-26 @ rio de janeiro brazil 1cd
1996-08-16 @ Hamilton, Copps Coliseum AUD
1995-08-19 Astro Junkies + ...
1996-08-26 Astro junkies + 1995.08.19 + 1992.??.??
1996-??-?? Australian Tour ... from Australia
1996-??-?? Greasy Junkies ( Brazil Board)

1999-03-13 : Rob Zombie - Auburn in Hell @ Detroit.MI
1999-04-?? "Rock Is Not Dead" @ Fargo, ND ; 63:15 B audience
1999-06-18 @ Mansfield, MA, Tweeter Center; 48:47 B audience

????-??-?? Live at the Pallidium (I need it)
????-??-?? In the Belly of the Beast (I need it)
????-??-?? Live in Rio / Bizarefest in Germany (I need it)
????-??-?? Still born still warm (I need it)
Track list on the bootlegs page

Strange CD's
? Howard stern (ep)
CD: PSYCHOHEAD BLOW OUT / SOUL CRUSHER
The cd for the 2 lps are just the albums put on a cd and sold as 1 ...but w/o the conscent of Caroline/White Zombie. it is ~$20
Label: Two Drink Minimum Released: 1995
MARS NEEDS BITCHES~2 CD SET
~~Disc 1--
Gentlemen Junkie
King Of Sould
Tales From The Scarecrow Man
Cat's Eye Ressurection
Black Friday
Dead Of Alive
Rain Insane
Paradise Fireball
Follow Wild/Red River Flow/Starslammer/Soul Crusher (alt lyrics)
Styrofoam (intro)
I Am Legend (alt lyrics)/God Of Thunder (live)/Revenge 2
Electric Funeral

Disc 2

Pig Heaven
Slaughter The Gray
Love Razor
Disaster Blaster 2
God Of Thunder
Soul Crusher
Thrust
Black Sunshine
Welcome To Planet Mother Fucker / Psychoholic Slag
Grindhouse A Go Go
Spiderbaby
Thunderkiss '65
Warp Asylum
Helter Skelter
Cosmic Monsters INC
GRAVEYARD SHIFTER~**WHITE ZOMBIE SOUNDTRACK WORKS**
~Nosferatu Speedway (Children Of Noise Intro)
Dragula (Hotrod Herman Remix)
The One (Escape From LA)
Burn Baby Burn (X Files w/Alice Cooper)
Spider Baby (movie intro)
Feed The Gods (Airheads)
American Nightmare (Private Parts)
Where The Sidewalk Ends, The Bug Parade Begins (Supercharger 7" b-side)
I'm Your Boogieman (Crow 2- Dr Spooky intro)
I Am Hell (Beavis & Butthead Experience)
Rat FIns, Suicide Tanks, & Cannibal Girls (Beavis & Butthead Do America)
Super Monster Sex Action (Dragula 7" b-side)
Children Of The Grave (NIB compilation)
It's ALl About The Benjamins (rock remix)
It's The Great Pumpkin Charlie Brown (intro)
Halloween, She Gets So Mean (Halloween Hootenanny)
Quake 2 theme (instrumental)
Blast Off To Nowhere (Powerman 5000 feat. Rob Zombie)
Feed My Frankenstein (Live w/Alice Cooper)
Scum Of The Earth (Mission Impossible 2)
ITALIAN CD
More Human Than Human
Thunder Kiss '65 swingin lovers mix
Thunder Kiss '65 Swingin lovers extended
Black Sunshine the sock it to me psycho.....
Blood Milk and Sky the Im Ho Tep 3,000 year.....
Hi all, I recently picked up a white zombie cd, and i have not seen or heard of it b4, heres the description: the cd is purple, all songs are credited to Rod? Zombie, and Ed Warner Chapel Geffen hold the copyright, although there is no G on the cd, instead there is a logo for a company called Thunder. -- ADAM X:-\ Soul-Crusher : 106043.1503(a)compuserve.com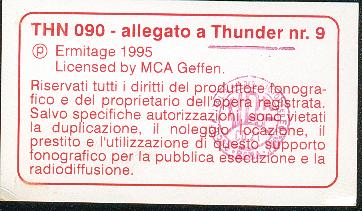 CAROLINE SAMPLER : On the Nineties Tip
2 pressing of this CD released in 1980

Both have God of thunder
MISC / TODO
# White Zombie - Ratfink Rarities & Other Super-Charged Songs (CD) * Collection of the best rare and rockin' tunes White Zombie had to offer. Includes...
Black Sunshine (KMFDM Mix),
Children Of The Grave (Live),
Children Of The Grave, Disaster Blaster (Demo),
Electric Head Pt. 1 - The Agony (Satan In High Heels Mix),
Electric Head Pt. 2 - The Ecstacy (Sexational After Dark Mix),
Feed The Gods, God Of Thunder (Live),
Helter Skelter (Live),
How To Make A Monster (Kitty's Purrrrrformance Mix),
I Am Hell
I'm Your Boogie Man,
Love Razor,
Quake II - Quad Machine,
Rage,
Ratfinks Suicide Tanks And Cannibal Girls,
Super-Charger Heaven (Adults Mix Only),
The One (Escape From L.A. Soundtrack)

Last modified: Thu Jun 15 00:43:47 CEST 2006