SMELL THE FUZZ : BLUES FOR 2-XL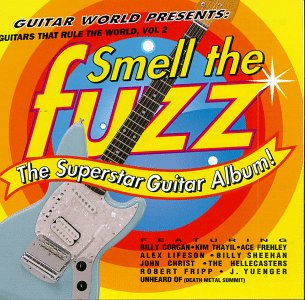 WZ's J. Yuenger has a song on it titled "Blues for 2-XL". It is a *GREAT* Solo blues track

Buy it online @ http://www.amazon.com/exec/obidos/ASIN/B000003ADH/rzr

Avalaible on :
Guitar World Presents: Guitars That Rule The World, Vol 2 (Advance)
Smell The Fuzz The Superstar Guitar Album! Metal Blade 963-2 or UPC #4992-50589-2 P2 50589
Original Release Date: October 22, 1996 / Label: Pry
This album is a bunch of guitar tracks from people from various bands.
Distonation - The Hellecasters
Ascendo - Billy CorganMusic
Strip and Go Naked - Alex LifesonMusic
Blues for 2-XL - J. YuengerMusic
Cherokee Boogie - Ace FrehleyMusic
Brewicide - Kim ThayilMusic
Explosion - Unheard Of
Niacin - Billy Sheehan
One Song - John Christ of Danzig
Sunset Collage 1 - Robert Fripp

And his tracks is with samples of a 70s robot toy


INTERVIEW w/ J OF WZ
http://www.hardradio.com/metalmama/yuenger.html
Jay Yuenger White Zombie guitarist Home base: Los Angeles Album: The Guitar's That Rule The World Vol. 2: Smell The Fuzz Label: Metal Blade Records
Other contributors: The Hellecasters, Billy Corgan, Rush/Victor guitarist Alex Lifeson, Ace Frehley, Dark Load featuring Kim Thayill of Soundgarden, Billy Sheehan, John Christ (ex-Danzig), King Crimson's Robert Fripp and Unheard Of which is Jack Owen (Cannibal Corpse), Allen West (Six Feet Under/ Obituary), Ralph Santolla (ex-Death/Eyewitness), Sean Malone (Cynic) and Paul Mazurkiewicz (Cannibal Corpse).
This is the second Superstar Guitar Album from Guitar World magazine and an idea from Editor-in Chief, Brad Tolinski. The first Superstar Guitar album was released in '92 and featured the likes of Earl Slick, Zakk Wylde, Richie Sambora and Yngwie Malmsteen. It's a chance to hear musicians stretch out and bring other musical influences into their normal rock and roll mix that still intrigues Tolinski and fans alike. It's a tradition that I hope will keep on happening every year.
Q&A with Jay Yuenger
Sheila Rene': Jay, hello. Remember today is Friday the 13th so don't walk under any ladders.
Jay Yuenger: (laughter is all I hear).
SR: Are you superstitious by any chance?
JY: Uhhh, kind of superstitious in the same way ball players are. Most bands usually have something they do right before they play to make sure nothing terrible happens. If I told you what that was, it would un-empower the ritual.
SR: Who called you to be a part of Smell The Fuzz?
JY: I know the editors from Guitar World really well because I write a column for them every month. They just called me up and it sounded like a cool thing to do.
SR: I had to laugh at the title, "Blues For 2XL" before I listened. I thought it was probably about a big gal who wore the size 2X. After listening I realized it was about a robot and not my dress size.
JY: (laughing) Yeah, it's a talking robot toy from the '70s that I sampled.
SR: ...Thank you for turning me on/ I'd much rather be on than off/I'm 2XL...Fun stuff. What guitar did you use on this cut?
JY: We were mixing Astro-Creep 2000 at the time. I had a day off and I probably just picked up whatever was around. I really don't remember what I used.
SR: Was this a song that you already had in your cache of tunes?
JY: I didn't even consciously write it really. The told me they needed something really fast and just that day I had been messing around with trying to finger pick some old blues. The whole concept just popped into my mind. You know how radio signals after they're broadcast get relayed but if they miss that relay station the earth curves away, but the sound just keeps going out into space. My whole concept was what if some alien robot in some satellite received a broadcast and tried to play back the blues his way. It was a nutty little thought I had.
SR: It works. It's the only cut with some humor.
JY: (laughing) Since we were working so hard on Astro-Creep, I just went in with our engineer and did it really fast. The whole idea was just to have fun with it.
SR: Have you listened to the album yet? What are some of your favorite cuts?
JY: Yeah. I like it. I like the weirder stuff like Billy Corgan's track and The Hellecasters.
SR: I love the Dark Load track, "Brewicide" with Kim Thayill and the John Christ track. They're all interesting.
JY: The Fripp track, "Sunset Collage 1," has some cool sounds on it.
SR: Would you mind if I asked you a few guitar questions?
JY: No, go ahead.
SR: What was your first guitar and where did it come from?
JY: My first guitar was an early '60s Harmony Stratatone which I bought with money from my paper route at a junk store. It was lying in the corner and had a big crack in the side of it. There was a moth cocoon in the volume knob. It was an old piece of junk. I think I paid the princely sum of $35 for it. That was a lot of money at the time.
SR: Is it still around?
JY: No, I wish I did.
SR: Everyone I've talked to about their first guitar wishes the same. Jon Butcher had a Hopalong Cassidy guitar before a Sear's model.
JY: (laughter) That would be worth a lot of money now.
SR: What step up did you make after the Harmony?
JY: Let's see, I traded that one in at the pawn show for a no-name black Les Paul copy. It was really cheap but I thought it looked cooler. For Christmas that year I got a Gibson SG which was my first real guitar.
SR: I bet you still play that one.
JY: No, I sold that one when I joined White Zombie. That was the only way I could afford to get a Marshall head. I had to sell a bunch of stuff.
SR: Was Rights Of The Accused out of Chicago your first band?
JY: Yeah, where did you hear about that?
SR: I've known about this band since you joined White Zombie. It was in a bio somewhere. I've been a fan of yours for sometime and have actually tried to interview you before. I keep missing the window of interview opportunity since the La Sexorcisto: Devil Music, Vol 1 and Astro-Creep. Now I've got ya.
JY: Oh, wow.
SR: I never missed a show in San Francisco and now I'm waiting for you to come to Austin.
JY: Oh, cool. That's one of our strongest markets so we'll be playing there.
SR: You toured 350 shows with La Sexorcisto, but you haven't hit that figure yet with Astro-Creep.
JY: No, not as many. We only toured a year and a half on Astro-Creep as opposed to two and a half on the last one.
SR: You've been involved in so many great projects. People know who you are now. One of my favorite WZ tunes is the "Children Of The Grave" cover on the Black Sabbath tribute.
JY: That's true. Thanks. We like the way that one turned out, too.
SR: I sure miss your "Headbanger Ball" appearances.
JY: I don't even have cable. I haven't seen it for a long time. When we were in Brazil playing festivals we noticed that MTV is a whole different thing. They play heavy music all day long. They don't care.
SR: Working with Terry Date on Astro-Creep as opposed to La Sexorcisto, any similarities there?
JY: Well, it's hard to even compare the two albums. The circumstances were so different. On La Sexorcisto we didn't know anything about recording. We had just quit our day jobs and were signed to Geffen. We came into the studio and just played our live set. Astro-Creep was totally different because we wrote that one from the ground up as an album. We used a lot more samples, loops and synthetic stuff. I don't feel there's any way to compare the making of those two albums.
SR: Astro-Creep 2000 ...is my favorite because it's heavier and it has more samples that are more up front. Your playing has developed stronger.
JY: The first album I still had my welfare equipment. I had whatever I could get and just played from my beat up half-stack and that was it. Astro-Creep was a whole different ballgame. I had a lot of rack gear and a bunch of guitars.
SR: I've always felt you might be into the Blues. Is that a correct assumption?
JY: Yeah, one thing I've always been able to do is to see how different styles of music are pretty similar and I just combine them.
SR: You're off the road now.
JY: Yep, we decided to take a year off.
SR: Isn't that wonderful. What have you been up to in your time off?
JY: It's really cool. I've been spending time in the recording studio.
SR: You're supposed to be mellowing out and slushing down the slopes.
JY: No, I'm not into that. It's different because it's my studio.
SR: Could we see a solo album in the future?
JY: I don't know about a solo project but I'm starting to talk to people about maybe doing some music for movies.
SR: Did your participation in " Airheads" turn you on to that art form?
JY: That was really fun to do, but I just love movies.
SR: I was just talking to James Murphy, formerly with Testament. He's interested in that too. You guys hired their drummer, one of the all-time best, John Tempesta.
JY: Really. (Laughing) Tempesta is great. He'll be with us for a long time. He's awesome.
SR: What's the time frame for a new Zombie album?
JY: We started our year off in September so a year from then we'll probably start writing again. I don't have any idea when it'll be ready for release. We did all the soundtrack stuff and the re-mix album just to tide things over so we could take some time off.
SR: Was it a band decision to do another re-mix session?
JY: It was something we'd always wanted to do. We had done some tunes from La Sexorcisto that did really well so we wanted to do a full-album re-mix version of Creep 2000.
SR: This one is incredible. I think my favorite is the K.C. and the Sunshine Band's "I'm Your Boogie Man (Sex on the Rocks mix). I actually met K.C. and have a platinum album from that album. I was happy you put that one on "The Crow: City Of Angels" soundtrack. Did you like the movie?
JY: Oh, yeah, cool. It's a cool movie.
SR: You guys have been nominated and won a lot of awards. Astro-Creep remains on Billboard's Top 200 album chart now more than a year after its release, plus it was nominated for Best Engineered Album (Non-Classical). "More Human Than Human" won an MTV Video Award, and was nominated for a Grammy in the Best Hard Rock Performance category. Plus you won Rolling Stone's 1996 Music Awards in both the Readers' and Critic's polls. How do you look upon all this glory?
JY: I don't know. I don't think about it much. I've said it before, but I think the really worthwhile award is a gold or platinum record because that's an award that comes directly from the people who buy the music.
SR: Are you an internet surfer? JY: A little bit. I haven't had much time to look around plus I just bought my first computer a couple of months ago.
SR: The possibilities are endless and that's exciting. What are you doing for Christmas, honey?
JY: Nothing.
SR: I bet you'll spend the holidays with a guitar in your hand.
JY: You're probably right.
SR: I doubt that you're ever too far away from a guitar.
JY: I'm trying a little farther away from it than I did when I was on tour. You're right it's hard to stay away.
SR: What's you favorite guitar today?
JY: Well, I have a couple of custom models like the Ibanez J model. I really like that one. Just this summer I got the first production model off the line and it's exactly like the one I had. Schecter Guitars out of Los Angeles made this guitar called the Astro-Surf that I play a lot.
SR: So it's possible that a lot of kids will be getting your Ibanez J model or your Astro-Surf model for Christmas.
JY: Yeah, it's out there.
SR: I really love your playing and your band. It has been a thrill to finally chat with you. This is one of my best-ever Christmas presents, to talk with you. Anything else we should talk about?
JY: ( much laughter) I think we've covered it. Thanks. I'll see ya in Austin.


According to http://www.2xlrobot.com/
So just what is this thing? 2-XL was made by Dr. Michael J. Freeman, Ph.D, an inventor with an interest in educational robots. 2-XL's basic function was to teach, hence his name, "To Excell." However he did it in a way that was entertaining for both children and adults. 2-XL could ask questions, tell jokes, play games and puzzles, and even had an interactive game called "Tri-Lex," which was a cross between checkers and tic-tac-toe. He was not only educational and entertaining, but he was friendly too, and played some pretty cool music (although his singing, by his own confession, was pretty bad). In short, 2-XL was a toy that had a big impact on my childhood. This site is dedicated to spreading the word to others out there who may also fondly remember 2-XL, wherever you may be.
MORE INSIDE ZOMBIELAND
Jay Yuenger , WZ Discography