J-YUENGER aka J
WHITE ZOMBIE GUITAR PLAYER
BIO
J. was born "Jay Noel Yuenger" in Chicago, Illinois. Since He joined White Zombie band, the band started to explose.
His style is typical, heavy synch rhythm, minimalist lead but special sound that get along so good with Zombie
J DISCOGRAPHY :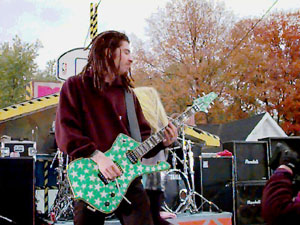 1991 RIGHTS OF THE ACCUSED : (see below)
1989 / 1997 WHITE ZOMBIE : MTDS, La Sexorsisto, Astro Creep, WZ Sountracks ...
1994 AIRHEADS / THE LONE RANGERS : Degenerated (produced by J)
1994 WICKER MAN 45RPM : "SHIT KICKER" : J Plays guitar on for the song (Cd cover)
1997 FU MANCHU Action is Go (producer and guitar )
1997 SHELTER : Beyond Planet Earth
Lead guitar by J. Yuenger on tracks "8. Helpless" "11. Man or Beast" "13. Eleventh Day Of The Moon"
More on shelter (and win stuff) http://rzr.online.fr/rd-id/16

1998 Original Soundtrack Chicago Cab (1998) Producer
2000 STENDEC : By the winter of 2000, Joe Daniels (Local H) was back behind the drum-kit for Southern California rock band Stendec (which was originally named Slobot) with ex-White Zombie member J. Yuenger. Stendec disbanded in Spring 2001. Stendec / Stendec E.P.

An Outerspace
My Destroyer
Queen Of My Scene
No Where
Captivated

Some info could be on http://www.streetteam.net
Anyone has the EP ?
2002 : He is in band, but there is nothing public about them (so far)
He also formed a punk-inspired side project, Bull Taco, with Morris, Navarro, Chad Smith (Red Hot Chili Peppers) and Zander Schloss (Circle Jerks).
Am I missing more ? --rzr

GUITAR TECH INFOS
To whom it may concern : J. owns "at least" the following gear :
Guitars :
Robin - Machete Deluxe "Big Blue" in metallic blue
Robin - Machete Deluxe Vintage Yellow
Robin - Machete Deluxe Green Finish
Robin - Machete Deluxe Pearl white
Robin - Medley Standard
Ibanez ICJ100WZ Iceman

Randall and Mesa-Boogie Amps
Rocktron and Korg Signal Processing
Nady Wireless, Dean Markley Strings
Dunlop Picks and Stuff
Fernandes Sustainer
J. uses a combination of randall heads and the marshall valvestate head(8100) thru a randall cabinet.
He uses a mesa boogie amp splitter which has 4 outputs so ce can use them all at once.
The randalls amps are the same as dimebag darrell of pantera uses. they're called century 200's. he also uses a roland double beat fuzz wah pedal , a pro-co rat and a mxr distortion pedal, all hooked up at once.
He plays Ibanez iceman guitars, (sorry, I was the one who thought he used fernandes, but that's because the fernandes sustainer is standard on fernandes guitars, I know cuz I almost bought one) his randalls are solid state, if you are not familiar with them.
The ICJ100WZ, co-designed by J. of White Zombie, has the distinction of being the only Iceman model guitar to ever feature Lo-Pro Edge Tremolo. This mahogany body, maple top, set-in neck guitar features hi output pickups and a Galactic Green finish with J's own "Star Graphic" finish.
J. uses fernandes sustainers, which, for your viewing pleasure, I made VISIBLE.
I believe that is where whoever said it got the name fenandes.

He also use Korg effects : Toneworks G1 (Korg ad)
MISC
J. was born "Jay Noel Yuenger" in Chicago, Illinois, and his dad worked for the Chicago tribune until he passed away a some years ago. has a girlfriend, lives in Sherman Oaks,Ca, he drives a 1967 blue mustang ... but who cares ?

How did Rob Meet J? Rob was shopping for comics one day in New York, and was complaining that their lead guitarist quit, and it just so happens that the proprietor of that shop, recommended J. to Rob.
When J. was initially trying to get into the band, he was trying for posistion as second guitarist. He did so well though that they got rid of Tom Guay and replaced him with J. as first.
J. tried out for White Zombie, and the rest is history.

He wrote a few columns for Guitar World magazine : http://www.guitarworld.com/0100/framesets/lessons.html


J. was a bike messenger and delivered pizza's by bicycle. (BTW, during this time he had a gun put to his head twice!).

Jay is a big collector of shriner's fez' and owns a Victorian mansion in LA.


RIGHTS OF THE ACCUSED / KICK-HAPPY, THRILL-HUNGRY, RECKLESS, & WILLING!
Give It All You Got
Drew
Way Down
Chance
The Ride
Beer & A Girl
Deathwish
Mudflap Mama
Open Fire
Shoulda Stay'd At Home
Here I Am
Credits :
Mike - vocals
Wes Kidd - guitar
Brian St. Clair - drums
Herb Rosen - bass
Kick-Happy... was produced by Jay O'Rourke and was released in 1991 on Noise International. It was recorded at Royal Recorders and mixed at Chicago Trax Recorders.
They were one of the first underage punk bands in Chicago, and they wanted to add a second guitarist. The other guitarist was Jay Yuenger http://www.hia.net/bcd/TFArota.htm

Reflex 20 (Reflex, December 1991)
She's a Politician - by: Soundgarden
Christmas with the Devil - by: Rights of the Accused
Notes: Free double sided 7" flexi-disc with US Reflex magazine: Reflex, P O Box 544, Mt. Morris, Illinois 61054

As a side note I have a SG shirt with a green monster that rob could have done :) --RzR


FU MANCHU
, Also J. did production for them http://www.fu-manchu.com/
Fu Manchu : Action Is Go (1997)
LABEL : Mammoth PLAYERS: Scott Hill: vocals, guitar/ Brad Davis: bass, theremin/ Brant Bjork: drums/ Bob Balch: guitar/
J. Yuenger: organ, keyboards, Moog Synthesizer, Producer, Drums (Electric)
PRODUCER: J. Yuenger (as on X-Games, Vol. 3 (1998) )

Bass player Brad Davis Interviewed by Dave Vickers ( part of bracku.ca )

DV: Tell me a bit about your new album. I was wondering why you chose J. Yuenger from White Zombie as a producer.
BD: We'd known him for a while, 'cuz when Brant was is Kyuss, they'd toured with White Zombie… we thought because we'd pretty much produced everything but the first album, (Brant produced that, before he was in the band), and we'd never really worked with a producer, we thought we might want to try it… just get another person in there who's a little more organized. We just had him come to a practice and check it out. We did a 'trial' kind of run: went into the studio and recorded "Unknown World" and did a cover of "Jailbreak" from Thin Lizzy, just to kind of check it out. "Unknown World" made it on the album and we're putting "Jailbreak" out on ... there's a label called Sessions. We're putting a 7'' of it out.

DV: I noticed you have the picture of [skateboarding legend] Tony Alva on the new album cover ...
BD: …We were able to [acquire] that, Glen E. Friedman photo… [Glen] and J. from White Zombie, they were acquaintances and [J.] was able to call him and ask if he had any photos, and we got real lucky on that one… When we saw it we were like, "Whoa… get that picture!"… it definitely kind of fits the tone of the album.


MORE INSIDE ZOMBIE LAND 2