JOHN TEMPESTA
John was born August 19, 1963 in Bronx, New York, He joined the band after Sexorsisto tour... and "Unless he's an axe murderer and we don't know about it, I think he's definitely the one," said J. So is reposible for the drums of AstroCreep He get along well with Rob and keep Working w/ Rob Zombie solo band as a drummer.

He contribuated to the following material :
Anthrax State of Euphoria [Clean] (1988) Drums
Tony Iommi Iommi (2000) Drums
Testament Low (1994) Drums
Testament Signs of Chaos: The Best of... (1997) Drums
Testament Very Best of Testament (2001) Drums
White Zombie : Astro Creep: 2000 -- Songs of Love... (1995) Drums, Producer
Exodus
One funny thing is that his Brother is in the same band as rob'brother PowerMan 5000
GEAR
He used Tama drums, Zildjian cymbals and sticks. http://www.tama.com/


drums:
TAMA SC MAPLE
color:
CHROME
sizes:
(2) 18X24 Bass Drums, 10X10, 11X12, 11X13, 11X14 Mounted Toms, 16X16, 16X18 Floor Toms, 16X20 Gong Bass, 7X14 Maple/Birch, 8X12 Maple/Birch Snares
hardware:
HC104TB, HC93B, HC93B, HS90, MXA63, CA30, CA45, MHA63
throne:
HT510
pedal:
HP900P
hi-hat stand:
HH905

INTERVIEW - METAL EDGE MARCH 1996
White Zombie Live & Backstage: A Rockin' Halloween Party

Rob Zombie and John Tempesta, Interviewed by Gerri Miller from METAL EDGE Magazine.

White Zombie and Halloween make a pretty wicked combination, but throw in Las Vegas for good measure and you've got the epitome of over the top fun. The ever-theatrical band went all-out for the holiday, which they started celebrating at their previous concert at Irvine Meadows in Laguna Hills, CA, where Alice Cooper joined them for "School's Out" in the encore. The appropriately spooky stage set, complete with tombstones and a giant Devil head, sported jack o'lanterns for the occasion, and the "Electric Head Pt. 2" video came to life on stage, with weird characters from the clip joining the band on stage at both the Irvine and Las Vegas concerts. The atmosphere before the latter was hectic due to the "Super-Charger Heaven" video shoot, begun at Irvine and continued at the Las Vegas soundcheck and during the show at Thomas & Mack Center, but frontman Rob Zombie and drummer John Tempesta found an hour to spend with me to talk about Halloween, the tour, and more.

G: Is Halloween your favorite holiday?
R: Yeah, I love Halloween but I feel like I started celebrating it sometime in June. It seems like every day is Halloween. We got a few extra pumpkins. I hope everyone comes in costume. A lot of kids at Irvine were. It seemed like every other kid had Devil horns or a skull face.
J: Pretty much our whole show is like a Halloween show. There will be different things happening tonight, sort of like the "Electric Head" video, like doing that live--that's Halloween in itself. Halloween is the coolest holiday. I remember when I was a kid, sitting on the roof with friends with dozens of eggs and throwing them at people.

G: Who did you used to dress up as?
J: Rob Zombie!
R: I think the last time I had a costume was a Darth Vader costume, like 1977.

G: What's your opinion of Las Vegas?
R: It's kinda weird, I like it for about two days and then it sucks. It's like two days at Disneyland is really fun but by the third day you're ready to get the hell out of there. If you see that fuckin' Goofy one more time...

G: Gamble at all?
R: Nah, I might as well put my wallet in the toilet.

G: The last time you played here, you were at the Huntridge Theater, where the roof recently collapsed.
R: It seemed like it was gonna collapse while we were playing it.

G: So how's the tour going?
J: Good, because after each leg of the tour we have a couple weeks off. We got back from Australia a couple of weeks ago. First time there. The people are really awesome. It's very Americanized. It was getting warm in some areas.
R: On this leg we've only done two shows. That Irvine show was the best. The Cramps opened up and we had Elvira and Alice Cooper, it was so over the top. Irvine was pretty nervewracking because we have a lot of new crew and new things for the show. We were rehearsing till five minutes before the show. But it all fell together. There were fuckups, but no one could tell.

G: I noticed the new props.
R: I did a thing for the Sci-Fi Channel last week hosting zombie movies and they built a cemetery set for me, and I kept everything.

G: Was the Devil head from that?
R: No, someone built that.

G: I know you're a big Alice Cooper fan, Rob. What was it like having him on stage with you?
R: It was awesome, it was this dream come true thing, but it flew by and now I'm searching my memory 'cause it's like a blur. Somebody filmed it and I was watching the film and seeing all the things that people tell me happened. I talked to him on the phone last night. He's the coolest guy.
J: That was amazing. We soundchecked that day with him, but that night he came out in full costume and it was "Wow!," cane and everything. The crowd was going crazy, yelling, "Alice! Alice!" I wish he could do it with us every night. The crowd definitely dug it.

G: The tour started in May. How do you feel, are you tired yet?
R: Yeah, I'm tired. We went to Europe and Australia and New Zealand but it seemed like a vacation for some reason. But being back here seems like getting back to the old grind.

G: How do you keep it from getting boring?
R: The shows never get boring, it's all the other stuff that gets boring, the waiting around backstage in some sports arena dressing room. Today is not so bad as some other shows because a lot of people we know are coming down. But far from home, where we know nobody, it gets...we'll be freezing by the time we get to Maine.
J: We're gonna hit some pretty cold places now, we'll be in Wisconsin for a week. We'll be heading to Denver after this and seeing snow.

G: Is everyone's health holding up?
J: Yeah, we've been pretty lucky so far.
R: I don't seem to get sick anymore. I haven't lost my voice in years.

G: Do you warm up?
R: No, I don't, the first few shows are the warmup. Because I haven't done anything in a few weeks my voice is kind of weak but after a couple of shows I can scream all night long, it doesn't matter. I'll probably lose my entire voice one day.

G: Does the traveling get to you?
R: We were miserable the whole time we were in Europe. We had these schedules where we were doing only festivals and we had these 40 hour trips in between. Like England to Finland.
J: We went from Germany to Sweden and we took a ferry to Finland.
R: It was like every single second was spent traveling to the next show. When we rolled into Donington, we came from Belgium--we played with Neil Young and Foo Fighters there.
J: We pulled up behind the stage, it was like 10:30 in the morning, and C.O.C. was on. I opened up the curtains and saw 70,000 people. We hit the stage about 1:30. The good thing was after that show we stayed over and got some sleep.
R: Donington was tough, it was literally like someone waking you up in the middle of the night and throwing you on stage. Your body thinks it's like 4:00 in the morning. Here you get into a groove whereas in Europe it's a nightmare.
J: It was hard adjusting to the time.
R: I just hate to fly so it's always a horrible experience. We've spent like a solid week in the air over the last month. You get nervous--if you fly that much eventually you're gonna die.

G: Would you rather be on a bus?
R: Yeah, a bus doesn't come falling out of the sky and crash into a mountain.

G: Are there a lot of overnight bus rides?
J: It depends, if there's a long haul we sleep on the bus. I get used to it, you just have to get into coffin mode. I don't mind it. I enjoy touring. But it's nice to have the breaks in between.

G: How long will you stay on the road?
R: Probably till September.
J: This leg of the tour goes through Dec. 15.

G: Taking a break for Christmas?
J: Yeah, which is cool. We end this leg in New York so I think I'll hang out there for a few days, see my folks, then go home and get ready to go out again. We're gonna start the third leg in February. I think we're starting in Florida, Filter will be supporting us then. That goes till middle of March, then we'll probably go to Europe for a few weeks, Japan, Hong Kong.

G: How do you adjust physically to a long tour like that?
J: Just playing shows keeps you in shape. We don't party or drink so we can handle it pretty well.

G: So you don't go out much after the shows?
J: If there's a day off, we'll go out. Otherwise we try to get some rest.

G: There trays of food and drinks back here. Do you eat before the show?
R: I never eat before the show. I need a good four hours without food in my stomach. I lose my appetite on the road.

G: Lose weight?
R: Always. Enough that every time people see me they go, "Jesus Christ! What happened to you?" Pants that I couldn't get on won't stay up.

G: Do you have a favorite moment in the show?
J: When the pyro hits me in the head.
R: I like when the pyro hits hime in the head, too. Last night, we had new pyro and I was standing there and our guitar tech was yelling "Move!" and I was like, "What?" and it went right by my head. I just spaced out. I was wandering around lost.

G: Speaking of that, did you ever get lost going to the stage a la Spinal Tap?
R: These places are confusing that's for damn sure but we're not that stupid. Though sometimes you get up to the building and you can't figure out how to get in.

G: I've heard stories of bands not having laminates on and being refused entry by security.
R: That happens all the time, well sometimes. Even if I have a laminate they stop me. They don't know who anyone is. Except if you're some sports guy.

G: Do you think about anything when you're on stage? Do you see faces?
J: I can't see anything, I barely see the back of his head.
R: On one hand, the whole show is a total blur but on the other hand you notice every little thing. You can see everybody up there. "Yeah, that kid has a booger hanging out of his nose." "That kid's pants are falling down." "That kid was there last night." "That's the worst tattoo I've ever seen." It zips by but you notice weird shit like that.

G: Does it ever break your concentration?
R: All the time. I'll just stop singing and forget where I am 'cause I'm like, "What the hell is going on out there?"

G: You've switched opening bands a lot on the tour. Why?
R: We like to switch people around to keep it interesting, and some bands can't do the whole tour because of schedules. If you tour with the same band for 300 shows it gets kind of tedious. It's always good to have bands coming and going, it keeps things interesting.

G: Filter's on the whole next leg?
R: Yeah, and there will be a third band but we don't know who it is yet. Then we have the whole summer to figure out. When we head out on our summer tour it will be 100% different, the set, everything.

G: Will you go back into amphitheaters?
R: Yeah, I kind of like the outdoor stuff because it's cooler in the summer. The indoor places in the summertime are hot enough to kill you.
J: But we did some outdoor venues in the middle of a heatwave.
R: Like a sauna. It sucks, but it doesn't happen too often. We did a couple of festivals in the rain. The one in Belgium, it was pouring, there were two inches of water on stage.
J: It was weird because it only rained on us. After us the sun came out.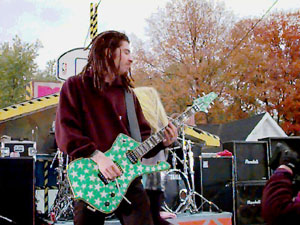 G: What's the story on the show you played at some kid's house in Indiana for an MTV contest?
R: That actually was pretty fun in a way. I think they asked the kid for a list of bands he wanted to play. We went in there in the afternoon, it was freezing and we set up in front of his garage, in his driveway. We played and we left. They announced in the paper we weren't coming because they were afraid too many people were going to show up. The kids who figured it out showed up, like 400 or 500 people. But they didn't want 10,000 people showing up so they said it was cancelled.
J: This kid's house is in the middle of nowhere. We had to fly to Indianapolis and drive two hours to get to Vincennes. It was fun, the whole town was there. It was cold, like 40' out. I was wearing gloves. But by the last song--we did four songs--I was definitely sweating. I thought, "I'm gonna have pneumonia after this." We had to drive back to Indianapolis that night.
G: Guess it worked out better than the last time you played live for MTV. What happened at the Video Music Awards?
J: New York is all unions and they have their own people at the boards. Everything went smoothly at soundcheck but during the show I never got a track in my earphones. It was off sequence. Those people didn't do their job. Out of this whole tour I never had a problem except this time.
R: By the time the message got anywhere we were halfway through the song. It was a drag. The whole day was like that, though. The rehearsals were fucked up, too. We always end up doing TV stuff but I hate doing it.
G: So tell me about the video you're shooting for "Super-Charger Heaven".
R: We shot at Irvine and we're gonna shoot today and slap together a live video. The time factor, we were gonna do this, then that, and then we went to Australia and it came down to "Let's just make a live video." We didn't have time for anything else because we had no time off. I think a lot of people don't have time to make them. I think REM make all their videos before the album even comes out so they can make cool ones but most people don't have that luxury.
G: You're directing?
R: Of sorts, live videos direct themselves. I'm telling them, "Point the camera at the band." Not much to direct.
J: I always like that. You're playing so you don't have to sit around [like at a typical shoot]. That gets pretty grueling after a while. "Electric Head" wasn't that bad. It was good because there were a lot of cameras, like four going at the same time so there were less takes.
G: How about all that toxic dust in the air?
R: Yeah, we could feel it for a week. It kept coming out (indicates nose and throat). We'll probably all get cancer from making that stupid video.
G: Which is your favorite video that you've done?
R: I like the "More Human" video because it was the first time I got to do a video without any outside problems. It worked out good, I like that you can see it through from start to finish. It was the one we won the award for and it got us exposure and airplay.
G: Do you plan to do a third video for Astro Creep 2000?
R: We'll probably make a video for "Blood, Milk and Sky" after Christmas.
G: Do you have a concept?
R: I'll just wait 'cause if I start thinking about it now I'll change my mind a hundred times and drive everyone crazy.
G: What about a home video?
R: We're gonna put one out at the beginning of the summer. We're gonna film a video for every single song. It will be like a video album. There will be a couple that were on MTV and seven new ones no one has every seen before.
G: With other footage?
R: There might be. Whatever fits. It will be a complete video album, start to finish.
G: Is video as important now? MTV basically ignores metal.
R: I think part of the reason why people think metal is dying is because of that. It becomes a self-fulfilling prophecy. Then there's the exposure factor. When you're in the middle of nowhere it's hard to find magazines and hear what's going on. A lot of places there's no rock radio. It's really hard, we can see it with touring. One night there's 5000 people and another night it's empty because a city has no rock radio and there's no one to announce the show or play the songs and kids don't know about it. A city like Seattle has a couple stations, which is probably why it's such a thriving market for music. L.A. used to be awesome and know it's really tight. We kind of snuck in before everything crashed but for newer bands, a band like Korn, would have had a much easier time two years ago when there was a KNAC.
G: What do you think of the music scene now? Where's it headed?
R: Everyone always complains and bitched but it seems like it's doing the same thing it always does. Seattle grunge, no one gives a shit about it now, and I think everyone's just about had it with the new wave of punk rock. I'm sure Metallica will make a record and everyone will love heavy metal again and then in another two years everyone will hate it again. In the early 80's nobody liked it either. Everyone was listening to Flock of Seagulls. It's weird, all the radio stations and magazines seem to jump ship, they catch a wave and totally change their format.
G: We haven't.
R: You're about the only ones who haven't.
G: Have you done any writing out here on the road?
R: No, we don't even think about it. I don't know how bands do it. You wander in, half-asleep and next thing you know you're on stage. If I vaguely think about it I just put it out of my mind. And for us, playing the same set every day it would be hard to write an album that's fresh. We need to get away from the old songs. We get asked to do every tribute album, we just haven't had time. We'll probably do one for the X-Files soundtrack, but I don't know, we don't have any ideas for it. Then the sequel to The Crow wants a new song, too. We have all of January off so we'll probably do it then. I was talking to Alice on the phone and he wants me to write, he was asking me if I had any ideas. I would like to do that.
G: You aren't going to have much time off in January.
R: No. When we're not on tour we're catching up on all the things we forgot to do while we're on tour. And as soon as the tour ends they give you a week off and then they start asking where the new album is. You never imagine how much work it is. I think that's what freaks out most bands: "Oh, my God, I didn't think it would be like this." They don't want to deal with it and that's why their career goes down the toilet.
G: Do you think you're better off that you didn't become successful instantly, but climbed steadily?
R: Yeah, it definitely is. When you're younger I don't think you're ready for it. Either you freak out or you piss it all away. Right out of high school you're pretty naive and you have a bunch of record company weasels and lawyers and you'll believe anything they say. By us going the independent route, by the time we got to a major [label] we pretty much knew the score.
G: Do you agree that a slow rise as opposed to a meteoric one means more longevity?
R: Yeah, I always figure quick to rise, quick to fall. Very few bands that get huge overnight stay there. When you have bands like AC/DC, are you really going to see Silverchair? The whole industry is different. When a band gets popular everyone jumps on it and they burn it out. Now there's the means to make a band popular overnight. You throw a band on MTV and overnight they're huge and the next day nobody cares about them.
G: How do you battle this disposable mentality?
R: There are certain things you have no control over--press, radio, MTV. But there are certain things you can control. You don't have to do everything that's offered to you. We turn down stuff all the time. We get offered every movie soundtrack, every tribute album, a million TV commercials, big magazines, but we turned it down because if you're everywhere all the time people get sick of looking at you. But it's hard, you have to balance it so you're there but not completely annonying 'cause you're everywhere.
G: Yes, but you get too out of sight and people forget about you.
R: It happens to a lot of bands, they make a record and take a five year break and they wonder why no one gives a shit. You loved them at 15 and now you're 20 and think they're corny. I'm curious to see who's around 10 years from now, there are obvious ones, like Soundgarden, but you never know.
G: Do you think White Zombie will be around in 10 years?
R: No.
G: What will you be doing then? Directing movies?
R: Yeah, probably. I don't want to do music. I think with certain types of music there's sort of an age limit. Unless the band mutates into something else, it starts being silly. There's nothing more embarrassing than 45 year-old guys singing from a 15 year-old mentality. People will take something that was the most incredible thing ever and beat it down into the ground. It's real obvious who's doing that and I don't want to do it. I don't worry about it. We do it because we creatively think there's something there. As soon as we feel like we're just milking it to make money we'll quit because we'll find no reason to be in the same room with each other. But on the other hand, people get addicted to the whole thing and can't live without it. Like the Who, who've retired like a hundred times. After a year or two they get crazy and have to get on stage. But you know, in 10 years I may be eating everything I'm saying. You never know. I can't predict the future for myself or anybody.
MISC
John Tempesta appeared on Tommi Iommi's album 'Iommi'.
"Laughing Man (In the Devil Mask)". Vocals: Henry Rollins, Bass: Terry Phillips, Drums: Jimmy Copley
"Time Is Mine". Vocals: Phil Anselmo (Pantera), Bass: Laurence Cottle, Drums: Matt Cameron (Soundgarden)
"Black Oblivion". Vocals: Billy Corgan (Smashing Pumpkins), Bass: Billy Corgan (Smashing Pumpkins), Drums: Kenny Aronoff (Smashing Pumpkins), Additional Guitar: Billy Corgan (Smashing Pumpkins)
"Goodbye Lament". Vocals: Dave Grohl (Foo Fighters), Bass: Laurence Cottle, Drums: Dave Grohl (Foo Fighters), Additional Guitar: Brian May (Queen)
"Into the Night". Vocals: Billy Idol, Bass: Ben Shepherd (Soundgarden), Drums: Matt Cameron (Soundgarden)
"Flame On". Vocals: Ian Astbury (The Cult), Bass: Laurence Cottle, Drums: Matt Cameron (Soundgarden), Additional Guitar: Brian May (Queen)
"Meat". Vocals: Skin (Skunk Anansie), Bass: Bob Marlette, Drums: JOHN TEMPESTA (ROB ZOMBIE), Additional Guitar: Ace
"Just Say No". Vocals: Peter Steele (Type 0 Negative), Bass: Peter Steele (Type 0 Negative) and Laurence Cottle, Drums: Matt Cameron (Soundgarden)
"Patterns". Vocals: Serj Tankian (System Of A Down), Bass: Laurence Cottle, Drums: Jimmy Copley
"Who's Fooling Who". Vocals: Ozzy Osbourne, Drums: Bill Ward (Black Sabbath).
MORE INSIDE ZOMBILAND
Menu

Last modified: Sun May 21 22:06:41 CEST 2006