OLD WZ SONGS
DEBUT'S ZOMBIE
All those items are for fan maniacs only because, the production of there records kinda suck (to say the least) all they were released before they sign under Geffen and move to L.A.

But they sold more than 100 000 copies of those records.

Yea all they did before the geffen years was under their own label "Silent Explosion" published by Caroline Records (NYC). No other bands than WZ are on 'Silent Explosion'.

Other notable Caroline bands, beside White Zombie, have included Bad Brains, Pussy Galore and Primus. Hole and finally Smashing Pumpkins released their first album, "Gish", (which is an excellent album) under caroline label as well.


GODS ON VOODOO MOON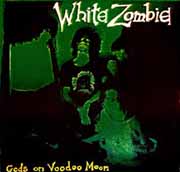 King Of Souls [W.Z.] [2:14]
Gentlemen Junk [2:19]

Tales From The ScareCrow Man [3:17]
Cat's Eye Resurrection [1:40]
Single Vinyl 7" - 1985 - 4 songs (limited to 300 copies), Nov 1985
1st record recorded only 1 month after the band was formed (october 1985). Under Silent Explosion Label.

Staff:
PIG HEAVEN / SLAUGHTER THE GREY

Single vinyl 7" May, 1986. Under Silent Explosion Label. ( 4:07 / 4:28) 2 pressing of 500 items : (First is B/W and the 2d one is with a color cover and came with a clothe patch)
Line Up : Rob, Sean, with Ivan de Prume on drums Tim Jeffs on guitar (100% of the work) (86)

To quote psyko :
As a sidenote, I recently got a "Pig Heaven/Slaughter the Gray" 45 and there was an interesting liner note from the radio station that had previously owned it. It reads:

"White Zombie-- NYC East Side band, so theyre probably druggies. But who cares, they rock. This'll reminds you of the best of the acid 60's and the best of the '80's combined."

"Pig Heaven"-- Great rhythm, kinda like Hendrix meets the Buttholes. This is hard to pigeonhole, so you decide what it's like.

"Slaugher The Gray"-- I can't get over the cool fuzz-distortion bass sound. It almost makes the band. I like the singer's nasal growl too.

Interesting , eh? Keep in mind this is back in 1986 just after the band had formed and Sean had just picked up a bass for the first time.
Already she was getting critical praise for her 'cool fuzz-distortion bass' and Rob had a likeable 'nasal growl'

The record itself came from WXDU, does anyone know where this radio station is based?
The cover is lithographed, with some of the demons and such looking liked theyve been colored in by hand with a red pen and a yellow highlighter.

-- Psyk0
PSYCHOHEAD BLOWOUT
EP vinyl 12" 7 songs, 1st EP on their own label "Silent Explosion" (May 1987) 1000 pressed
Lyrics
Staff : Rob Straker- Vocals Tom Guay-Guitar Sean Yseult-Bass Ivan De Prume-Drums
Eighty-eight
Fast Jungle
Gun Crazy
Kick
Memphis
Magdalene
True Crime

SOULCRUSHER
Ratmouth [3:41]
Shack of hate [3:54]
Crow 2 [3:50]
Drowning the colossus [4:54]
Die zombie die [4:07]
Skin [3:37]
Truck on fire [4:06]
Future shock [3:10]
Scum kill [3:42]
Diamond ass [3:40]
Infos :
40mins on LP vinyl 12", Cassette - (Silent Explosion November 1987 (2000 pressed) - Reedited by Caroline Rec 1987 (id#CAROL1350)

Where do the samples came from ? Can you tell ?
Future shock : ??? com'on you damn bastards ???
Skin : ??? noise

MAKE THEM DIE SLOWLY
Demonspeed [5:21]
Disaster blaster [6.03]
Murderworld [6:10] (it is about the Movie Cannibal Ferox)
Revenge [4:22]
Acid flesh [5:30]
Power hungry [5:12]
Godslayer [7:12]
Caroline Records : id#CAROL1457 , Available on CD, tape and even 12" vinyl [39:56]
J.Ricci on guitars ; produced by Bill Laswell (Motorhed, Iggy Pop)
Recorded Nov. 88 at Platinum Island, N.Y.C. ; out on March 1989
Goof : on the edge of the CD box it is printed "Let them die slowly" instead.
Note : Jay Yuenger joined the band just after when the record came out.
Due to the rarity of it, I have a couple of original CD of it ask me for traiding :-)



GOD OF THUNDER
God of Thunder (KISS cover) [3:54]
Disaster Blaster 2 [6:00] (Same song that on MTDS, but far better production)
Love Razor [5:19]

Info :
Total playing time 14:18
EP on Caroline (id#CAROL1457 Released: 1989 - Recorded at 1989.10 @ NYC) (black Vinyl 12" or green Vinyl also promo vinyl + CD)
Members : Rob, Jay, Sean, Ivan Prod: Daniel Rey
This one had the best production, and is the closest realease to La sexorsisto,
Funny stuff, on the Cover of the God of thunder , Rob is handing KISS's member head, Rob said he hopes that Kiss Will make a scandal about it, and then will make The works known a bit more about WZ ... but i seems it didnt happend that time.

a Disaster Blaster 2 Sample (Translater): "It's too late" Sample: "You can tell that to Jabba" Source: Movie : Star Wars (1977) Guitar Tab


ZOMBIE KISS
Single Vinyl 7" , Recorded Live at CBGB (N.Y.C.) , Released in 1989 under unkown label , i think it is a bootleg
(Can you scan the covers ?)
God of thunder ( Kiss cover)
Thrust ( it is the same song as the one on La sexorsisto album)
Guitar Tab


UNRELEASED STUDIO TRACKS (1986-1987)
Black Friday [3:06] (1985 - Gods on Voodoo Moon sessions)
Dead Or Alive [1:46] (1985 - Gods on Voodoo Moon sessions)

Rain Inside [3:11]
Paradise Fireball [3:15]
Follow Wild [5:16]
Red river flow [4:15] (incompleate)
... are there more ?
Music wrote and played by Tim Jeffs on Guitar


MORE INSIDE ZOMBIE LAND

Zombie Land II : http://rzr.online.fr/zombie.htm
(C) - RzR @ http://rzr.online.fr/contact.htm
Last modified: Thu Jun 15 00:43:47 CEST 2006